Last weekend in the U.S. stood out cold and snowy.
South and north-east almost paralyzed.
Frozen in the U.S. AP
Snowstorms that hit the south and the northeast United States over the weekend led to the deaths of at least five people. Three deaths were recorded in Dallas: 26-year-old man lost control and crashed into a tree, 75-year-old pensioner died, slipped on the ice in his yard, another woman frozen in the parking lot.
Two more victims of floods become drivers collided on a snowy road in Wisconsin, writes The Los Angeles Times. Total scores were recorded accidents, the largest of which encountered about 50 cars. Movement on several highway was completely paralyzed.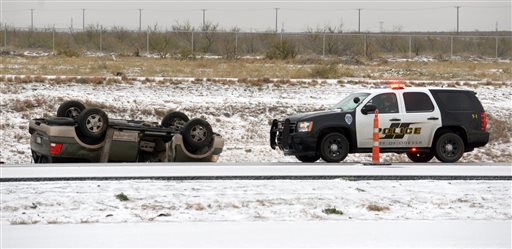 Frozen in the United States

/ AP
See also: Winter in Kiev: the city collapsed snowstorm (PHOTO)
In total, due to snowstorms canceled flights about two thousand, half of which occurred in the Dallas International Airport. Four and 300 flights canceled at the air hub of Washington and Philadelphia, respectively. Problems with communication are also observed in Baltimore, Pittsburgh, DC, Memphis and many other regions.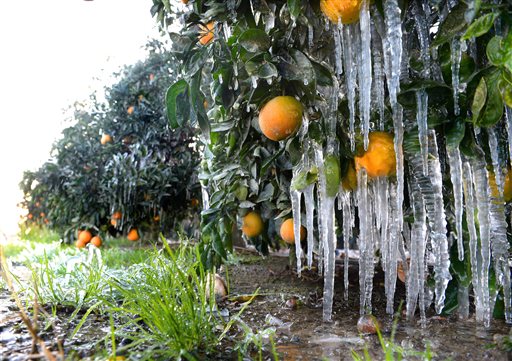 Frozen in the United States

/ AP
Due to inclement weather were disrupted several sporting events. In particular, the organizers canceled Sunday marathons in Dallas and Memphis, which were to take part 45 000 runners.
READ ALSO: Devastating storm approached from Europe Ukraine (PHOTO)
Forecasters yet pessimistic and say that the cold wave gradually covers the entire territory of the United States, reports Sky News. The average temperature ranges from -7 ° C to -17 ° C. In Montana and South Dakota to the colder -29 ° C, and in northwestern Minnesota, the thermometer shows a strong wind -46 ° C.
---
Comment.

Elements on the stress manifestation in all corners of the globe, with Planet Earth on December 7-8, 2013 to July 26, 2014 - begins to act tau-square Mars-Uranus-Pluto.
Cosmological-line atmospheric anomalies abnormally low temperature resonant seismic events, blizzards, abnormal rainfall, snow storms and hurricanes, volcanic active, dominant volcanoes, tsunamis, floods, flooding coastal areas tidal waves.

---
The most resonant fiducial coverage of T-square Mars-Uranus-Pluto on all manifestations of the planet Earth Elements:
---
December 10, 2013 - January 20, 2014.
Busy period, December 20, 2013 - January 10, 2014.
March 10-June 10, 2014.
Stressful period 10 April to 10 May 2014.
Critical data 20 - April 21, 2014.
Andrey Andreev-kosmoritmolog.
---
Praemonitus praemunitus-forewarned is forearmed.
---
The north of Europe 6 December 2013 storm hit, "Xavier."
Weather Elements displays the winter 2013 - 2014.
Astrological forecast for winter 2013-2014 .
---